Do parents/guardians/carers want their children to return to school?
Short answer: yes. Long answer: they have many concerns!
Here is some data that I collected from a sample of parents/guardians/carers to give some insights into what concerns and worries they have in sending their children back to school.
It should be noted that there were 10 questions. This allowed parents/guardians/carers to answer the questions quickly and with ease, so that they were more inclined to engage fully and answer truthfully.
The first question is the only one that lends itself to quantitative data, as it is a closed question. The other questions are open-ended, allowing parents/guardians/carers to express themselves fully. I felt this was important, so that they would feel satisfied in articulating their thoughts and feelings in the hopes that they would.
Top 7 concerns with sending children to school in March
Before analysing the results in detail, here is a summary of the top 7 concerns:
Catching COVID
School COVID testing
Transitioning from home to school
Catching up with learning
Bubbles self-isolating with insufficient time for parents to arrange child-care
Re-establishing friendships
School management: will it be too strict; or, too lax?
Broadly speaking, the concerns can be summarised as being concerned of the safety of children at school; the uncertainty of how children's emotional, mental, social and academic needs will be met; and how schools will manage the risk of COVID.
1. Do you want your child/children to return to school in early March?
A bar chart showing people's responses.
Yes, I want my children to return to school.

85.45%

85.45%
No, I don't want to send my children to school.

16.36%

16.36%
The results as shown above illustrates that the overwhelming majority want their child/children back in school.
***The reason for the data NOT adding to 100% is because a few parents clicked 'Yes' and 'No'. Perhaps reflecting people's uncertainty.***
2. What is your biggest concern about your child/children returning?
Here is a word cloud of the responses, so that you have a visual idea of what parents/guardians/carers are thinking: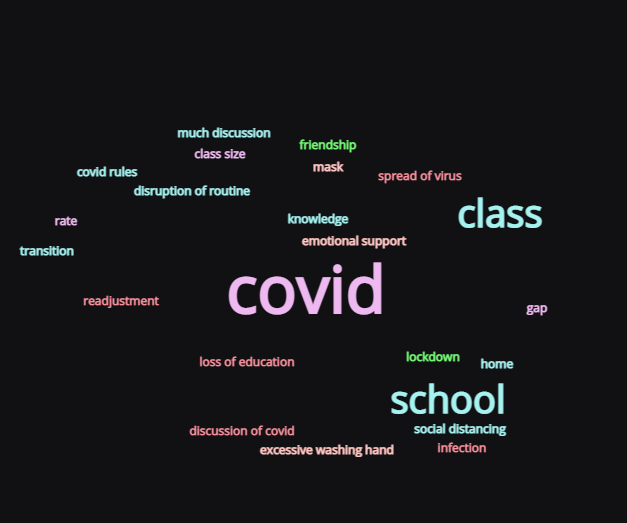 Here is the ranked list of concerns for parents/guardians/carers:
COVID related: transmission, increase in 'R' rate and new variants emerging (19).
No concerns: some feel that schools should have opened sooner (9).
School closures: some are concerned that if schools open too quickly, too soon, it would cause another school closure. Others feel worried that there might be disruptions with some 'bubbles' being told to self-isolate, resulting in further disruption to children's education and routine, as well as making it difficult for parents/guardians/carers to arrange childcare (6).
Loss of learning: people feel that their children might have gaps and are worried about how they will catch up, especially if the quality of home-learning varied and all children are placed in the same class (6).
School management: how schools will ensure students are kept safe by encouraging hand-washing and social-distancing without frightening children (5).
Transitioning: readjusting to school after being home for so long (4).
COVID testing: some feel concerned about the proposed testing in school, as they feel it might cause further anxiety (3).
Mental well-being: how schools will nurture children's mental health (1).
Friendships: how children will re-establish friendships (1).
Summary of results of 'What are parents'/guardians'/carers' concerns about sending their children to school?
Despite the majority of people wanting their children to return to school, there is clearly a lot of unease about how the schools will keep their children safe. At the same time, there is a concern about the mental and emotional well-being when implementing COVID rules, particularly with regards to testing and discussing the virus. There is also a concern in how schools will encourage children to continue learning, while not pressuring them to feel behind.
3. What do you think your child's/children's biggest concerns are about returning to school?
Although parents/guardians/carers expressed their own concerns regarding the school returns, many did not seem to feel that their children harboured the same worries. Here are the results:
Here is the list of 9 concerns that parents/guardians/carers felt worried their children:
Unconcerned: many feel that their children are looking forward to returning to school and that they are not worried (17).
COVID: people feel that their children are concerned about coronavirus, particularly with contracting it and then passing it on to loved ones (8).
COVID management: people are afraid that their children will not cope with the strict rules, especially wearing masks in class. Majority are afraid that it will be difficult to enforce the social distancing rules (8).
Exams/schoolwork: people feel that their children are unsure about how they would catch up and that the work might be significantly more challenging. Many feel that their older children are particularly worried about how they will be assessed (6).
Routine: readjusting to school rules and school work, as children have become accustomed to being at home and going at their own pace (5).
Anxiety: unease about being back at school because of the virus; nervous about being separated from parents and family members (3).
Unsure: despite the small number of people directly stating that they are unsure about how their children are feeling, there was a general feeling of uncertainty in answers (3).
Friends: re-establishing friendships and knowing how to be with their peers (2).
Prefers online: people feel their children prefer online sessions at home because they can go at their own pace.
Summary of perceived children's concerns
Interestingly, parents/guardians/carers of children of different ages, feel that there is a difference in concerns, but that the level and cause of anxiety is similar: COVID, routine and school work/exams.
4. What would you like to see schools doing to support you the parent/carer/guardian?
Here is the ranked list of what people would like their children's schools to do to support them:
Communication: parents/carers/guardians want regular updates and feedback so that they can support their children at home (14).
Open schools: many would like schools to remain open and not close (6).
COVID Management: many would like to know what school are implementing to keep their children safe in school (6).
Management: many want to know how schools are going to manage children back in classrooms: whether there will be smaller classes; a transition plan for children struggle to settle in; and advance warning of closures so people can prepare (4).
Close schools: some people feel it would best to keep schools closed; some want them closed until Easter (4).
Tuition: many would like their children to receive extra study support (4).
Satisfied: some people were happy with what their children's schools are doing in terms of supporting them with their kids (3).
Emotional/Mental well-being: people would like to know what schools are going to actively do to assist with their children's emotional and mental well-being (3).
Catch-up plan: a few worry their children have missed out on learning and the National Curriculum, so would like a plan on how schools will provide opportunities for children to be where they need to be in the summer term (3).
None: a few feel they require nothing from schools (2).
Online support: people would like online learning to continue when schools open (1).
SEN support: some feel their children's needs have not been met with remote learning, so would like measures to be put in place to support their kids when learning at home (1).
Relaxed pace: some people would like a slower pace than usual so that their children feel at ease (1).
Vaccine: some would feel more comfortable if all adults in schools were vaccinated before sending their children back (1).
Unsure: people feel uncertain with what support they require (1).
5. What would you like to see the school doing to support your child/children?
Here is the ranked list of what parents/guardians/carers would like to see from their children's schools to support their kids:
Personalised plan: many want a tailored approach to learning and mental well-being for their children on returning to school (8).
Re-establishing friendships: many want active focus on socialisation by creating more opportunities to spend time with friends by having more playtime and longer lunch times (7).
Focus on emotional and mental well-being: people want counselling for children who may require it. There is also a desire to promote communication on feelings and thoughts, so that children have strategies to cope with unwanted thoughts/feelings (6).
Extra study sessions: Fearing that their children are not at the same level as their peers, many want to focus on academic support in the form of one-to-one tuition, weekend classes and extra homework (6).
Return to normal: people feel that returning to 'normality' would benefit children and their families. Many not only want schools to reopen fully, but for the extracurricular activities and clubs to open up (6).
Keep up the hard-work: a lot of people are satisfied with the approach of schools; they feel the balance between study and emotional/mental support is already in place and so want schools to keep up the great work (6).
Feedback: many want to see greater communication between parents and teachers. People would like to have personal consultation to find out what support their child needs to ensure they are on track to succeed by the end of the summer term (4).
Educate on COVID: people want their children to understand why there are many rules and regulations in place, and so want their children actively educated on COVID, so that they are less confused and concerned about what is happening (4).
Increase physical activity: many are worried that their children have been sedentary with online learning, and so want more time allotted to physical activity. There are some who also want lessons outside to encourage children to go outside more (3).
Continue online learning: many would like the option to continue with online learning as they feel that it is safer, and because some children have preferred learning from home at their own pace (3).
Remain closed: some would like schools to remain shut – at least until the Easter holidays (2).
Unsure: people also feel uncertain about what their children need, as they feel they will know more once their children return (1).
Relax: many want a relaxed paced for their children at school; they do not want their children to feel pressured (1).
Many want to see a nurturing approach that focuses on the needs of their child. To help facilitate this, parents/guardians/carers want more feedback from schools, so that they can help support their child at home.
6. What has been the biggest challenge for you with the schools being closed?
Here are the results for what people felt their child struggled with the most in a ranked order:
Balancing work/home-schooling: many find it difficult to assist their children with home-learning, while working from home. They feel the professional-personal boundaries blurred, so that they are struggling to keep up with work and their children's learning (16).
Motivation: engaging and encouraging their children during lockdown learning is a challenge, especially as there is a lack of social interaction with peers, and a lack of direct  feedback from teachers (11).
Home-learning: many find home-schooling a challenge in general. However, a general trend has been the reluctance of children for various reasons. The three prominent reasons given by people were: emotional outbursts, not wanting to accept help from parents and lack of motivation (9).
Mental/emotional well-being: many are worried about the impact on their children psychologically with some noting that their children have developed anxiety because of the situation (7).
Screen time: as learning is taking place online parents/guardians/carers have noticed a trend for their children to use devices for learning, socializing and entertainment. Instead of doing other activities, such as art and sport, they prefer to be on a device (6).
Friendships: being away from peers is challenging; many are missing the social interactions (6).
Inactivity: due to the lockdown children are not exercising as much as they usually would. Consequently, people are concerned by the inertia of their children, and so would like to see an increase level of sport and activity when schools re-open (5).
Quality of online learning: people are dissatisfied with the lack of quality and equality of online learning. Although people understand that schools are doing what they can, and so were quick to say they were not criticising the schools, many feel that some of the online learning is not adequate. The two main criticisms: poor quality software and pre-recorded lessons with no interaction (4).
Special Educational Needs: many people feel that their children with SEND are not being catered for. In school, they would have extra support, but with home-schooling, they had very little support, making it increasingly difficult for people to balance their children's needs with their work and domestic chores (2).
Impact on relationships: many feel that there has been increased strain on parent-child relationships, especially in terms of children not wanting to listen to parent/guardian/carer in terms of their school work (2).
Personal space: with home-schooling and working from home, some people have been finding it difficult to create some space for their own self-care (1).
Not a struggle: some feel their schools have offered plenty of support, so that they are not finding home-schooling and working challenge (1).
Summary of the biggest challenge parents/guardians/carers face:
Overall, the biggest struggle seems to be in the feeling of lack and incompletion. Many feel they are not completing home-schooling work and their actual work; they are not having time to themselves, and they are not spending quality time with their family, leading to increase stress and strain. 
7. What has been the biggest eye opener for you with the schools being closed?
Here is a ranked list of what parents/carers/guardians discovered while schools have been closed:
Friendships: many see the importance of peers in, not only socialisation, but also in studies (14).
Pressures on teachers: people realise how hard-working and passionate teachers are (11).
Bad education: some feel that the education is an inadequate and feel that not a lot of work is completed in school (7).
School-work: many feel they have a deeper understanding and appreciation of the curriculum (6).
Difference in quality of education: some people notice a comparable difference in teaching and online support between schools (4).
Importance of routine: people have seen the value of routine in maintaining their children's mental well-being and energy levels (3).
Motivation and energy levels: some feel that their children do not have the ability to self-motivate, and that children vary in energy levels during the day (3).
Children struggling: a few believe that their children have additional needs (2).
Nothing: some feel they are already aware of the hard-work of teachers; others feel they know already the areas their children struggle in and the experience has proven this (2).
Appreciation of school: people feel that school is vital for their child's well-being, socialisation and learning, and are truly grateful for it (1).
Need for change of curriculum: some feel a change in curriculum would be great, particularly in terms of having no homework, since a lot is achieved in school hours (1)
Summary of what parents/carers/guardians have discovered
From the answers, most seem to have re-discovered their appreciation of school. Many have gained greater awareness of their child's learning needs, as well as what motivates and engages them.
8. What subject has your child struggled with the most at home?
A list of subjects that parents/guardians/carers feel their children struggle with at home
English (18)
Maths (11)
None (10)
Science (8)
Sports (5)
All of it (3)
Unsure (1)
Music (1)
Art (1)
Languages (1)
French (1)
Lack of friends (1)
Self-discipline (1)
Summary of subjects people feel their children struggle with at home.
Keeping on top of English (literacy and writing) seems to be the one that most have found challenging. 
9. What subject has your child enjoyed more at home?
Here is a ranked list of what subjects parents/guardians/carers think their children have enjoyed:
Maths: (17)
English: (11)
None:  (7)
All:  (5)
History:  (5)
Art:  (5)
Science: (4)
Unsure: (4)
Geography: (4)
Music:  (4)
Drama: (1)
French: (1)
P.E: (1)
DT: (1)
Summary of what people feel their children enjoy more studying at home
A wide variety of subjects seem to be enjoyed more at home; however, it is clear that Maths and English are by far the top two.
10. Any further comments:
Summary of anything else people wanted to add:
19 people chose to skip the question and 20 answered 'No' to this question.
As this question invited people to express themselves freely, it would be best to write exactly what comments people wrote.
Teachers/school staff have done an amazing job. The government need to protect them now and offer them the vaccine and give them a salary increase!
I think teachers and heads have done a brilliant job at my daughters school.
Schools need more funding for children and smaller classes.
Obvious that the children have missed out on teaching at school and those who are higher ability are not going to be developed to their natural standard – lack of routine could be an issue when returning to school.
Although this has inevitably caused an impact on our children, it's important to also embrace the life skills our children have learnt at home. My year 1 child wanted to wash up yesterday and help set the table!
Quite increased bills (electricity/ gas) because of usage. It would be good to have at least a discount on those for families who are struggling. We can pay them but some neighbours can't. It is sad.
My child is an only child and the effect of not seeing other kids has been worse than missed education.
Schools need to fully re open without restrictions as soon as possible.
Just want the kids back at school especially my son who is in year 12.
I am not worried about the education and the catching up…. I want the focus to be on mental well-being, friendships, building confidence and social interactions.
The UK needs to completely rid itself of this virus before even thinking of returning students to school and improve the online learning facilities tenfold.
Nurseries have been open for the whole time inviting all children to attend. Data also shows that 0-4 yr olds have the highest number of hospital admissions compared to primary aged children. There has been near to no coverage of this or the fact that eys teachers have been working throughout with no consideration for priority access to the vaccine. The forgotten sector.
Teacher for different subject should discus the student to find out their weakness . If the student failing all subject because they are not working enough hard or they good in most subject and just struggle in couple of subjects and inform parents every each other months. Different subjects teacher should communicate about student
Resume life like in Sweden.
Teachers do a fabulous job.
Online education is not the best option.
Although it has been challenging homeschooling and working I have enjoyed the opportunity to spend more time with my children and I feel I know them much better than I would if they were at school and I have much better understanding of where they are academically. Generally, I'm very worried for this cohort of children; it seems to have affected disadvantaged children much more negatively and increased inequality.
Overall, many people wished to express their gratitude for the educational sector, particularly teachers and teaching staff. Many also seem to be concerned with teachers' well-being and risk of COVID to them.
There is also some insight into the personal hardships people are enduring because of increase costs for running households.
Overall, parents/carers/guardians seem to want their children to return to school. However, there is a general unease regarding:
COVID control measures
Managing the emotional and mental well-being of children
Encouraging children to engage in their learning
Many people seem to have a greater respect for school-life and teachers. Others have a greater understanding of their children's learning style and ability.
Although there are similar experiences and trends amongst families, we have to remember that everyone's experience of lockdown learning has been different. While there have been many positive aspects, there are also some negative. Listening to the needs and insights of parents/carers/guardians regarding their children, can help to foster stronger working relationships between schools and families, so that everyone is supported in their role.