Overview
In this video and blog, we are going to explore:
What the government has proposed for the GCSE summer 2021 exams;
The pros and cons of the proposal;
How you can have your say;
How you can support your child.
After watching the video and going through this blog, you will be empowered to support your child as they prepare for their GCSE finals.
1. What the government has proposed for the GCSE summer 2021 exams
Since school closures, students have missed out on four months of teacher-led learning. Even students, who typically home-learn, may have experienced disruptions in their learning as a parent may have been forced to work from home, making the study environment more challenging. Meet-up groups and extra-curricular activities that home-learners utilise have also been shut, preventing the variety of resources that home-educators usually have access to.
Regardless of whether your 14 – 16 year old child attends school or home-learns, both will be facing the uncertainty of what their summer 2021 exams will look like.
 So, what can be done to mitigate the effects of COVID-19 on learning?
 To make the summer exams as fair as possible, OFQUAL (The Office of Qualifications and Examination Regulation) have come up with the following proposal:
Cutting down material covered in exams;
Delaying commencement of exams for after the summer half-term (after 7th June);
Increasing teaching time by cutting practicals and field work;
Increasing exam question options.
Now, you may look at the proposals and think they are reasonable and logical. However, they raise a lot of questions, such as the following:
Is this sufficient action?
Does it put disadvantaged children at a greater disadvantage?
What about home-educated children?
Is this diluting down the qualification?
The idea is to ensure high-quality exams that give each child the best possible chance of showcasing their abilities, without watering down exams. This is perhaps the most crucial point. After-all, tinkering with the exams to make it fair on children now at the expense of making it more difficult for them in the future, would defeat objective.  
2. The pros and cons of the government proposals
The table below outlines the pros and cons of OFQUAL's proposal.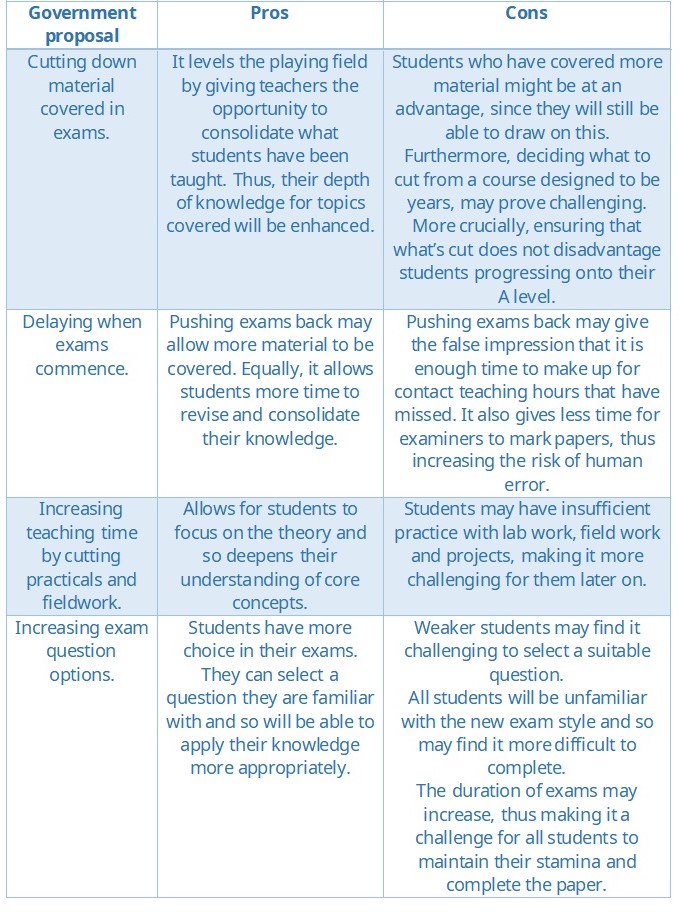 Perhaps the three biggest concerns from altering any of the summer exams are:
Changes in the exam papers and exam structure may increase anxiety in students taking the exam;


Changes in the structure of the exam paper may throw students as they have had no opportunities in sitting the new exam-style paper. Consequently, students may not be able to manage their time appropriately.


Changes in exams are subject to a greater risk of error, as the papers would not have been as rigorously and thoroughly gone over.
Both educators and researchers believe, that changes to exams may put academically weaker students at a disadvantage. This is because students find it difficult, when presented with more exam question choice, to choose a question that they know well. They therefore tend to select questions that are more challenging and that they are not so familiar with.
Students with SEND may also be at a disadvantage. For instance, some students with SEND may be given extra exam time. If exams are made longer, SEND students may face exams up to three hours long. They may not have the stamina to complete the papers adequately.
3. How can you have your say?
To have your say, go onto the following website:
https://www.smartsurvey.co.uk/s/QTD27I
4. How can you support your child?
To support your child, it is helpful to:
Ask them for their views.
Your child will have their own opinion on the matter. It might therefore be useful to go through the government's proposals and see what they think. Perhaps your child can help you fill out the survey and so have their say in their exams.
Reassure them that everyone is in the same situation.
All children have been impacted by the current situation. Therefore, no one is going to penalise students. Remind your child to have some compassion for themselves and for others at this time. Reassure them that if they do not achieve their best, they will be able to resit their exams at a later date.
Exam papers may alter; however, it is still vital to practice exam skills. What this means is, rather than focusing on the particular exam paper, focus on the skills required to complete the exam. This might be breaking down questions and deciphering what is being asked. It may also be about practising completing timed tasks. To further give them confidence, set them a task that utilise their knowledge, but in a different form. For example, if they are studying Geography, they would have covered urban living: crime and pollution. Ask them to write a letter to their local MP persuading them to make changes to their city (or to a city of their choice). In doing this, they can apply their knowledge in Geography to an English task. It may reassure them that they know the topic and that they are able to use their understanding of the topic and apply it to different situations.
Liaise with schools, course leaders and exam boards.
Teachers and educators are greatly sympathetic to the year 10's situation. Speak with them about what they propose for your child. If you have specific concerns, let them know so they can offer their support and expertise.
It may also be appropriate to speak with specific exam boards, especially if you home-educate. However, do bear in mind, schools have put forward their predicated grades for the current year 11s, and so the exam boards may not be able to respond fully. Also, the deadline for the survey is the 16th July. Without the official government outline for exams, teachers and exam boards may not know precisely what is happening. I know it is frustrating, but be patient.
Overall
Overall then, it is imperative that you complete the survey to have your say!
Reassure your child to keep working consistently and diligently. If circumstances change, like the current year 11s, and teachers are forced to predict grades, then having a portfolio of work will go in their favour.
If your child does sit the exam and do not achieve their desired grade, there will be opportunities to re-sit exams. In Autumn, Math, English and Science re-sits are possible. Some exam boards have exams in January, so students could, potentially, sit some of their non-core subjects in January 2022.
No matter what happens, be compassionate. And remember: everyone is in the same boat.